Expert ongoing one-to-one vocal training is offered for singers of all ages and abilities with a wide range of goals.
​
Vocal skills

- build your singing technique gradually with specialist guidance; understand how your voice works, establish safe and sustainable habits

Musicianship

- learn to phrase and shape your music to tell an emotional story, hone your skills in sight reading, aurals and music theory

Performance skills

- use your craft to communicate with an audience, learn drama skills for musical theatre and gain the confidence to be yourself under pressure
Voice lessons are offered in 30, 60 or 90 minute
sessions, currently delivered online only.
"Stefan's singing training and extreme patience has given me the confidence to sing as part of a rock band in front of over 100 people - something I never thought possible.

Stefan's one to one classes are a safe space, where he encourages me to explore and create sound I never thought possible, pushing the boundaries to new limits. These sessions are a sheer joy and I leave them feeling on top of the world."
​
- Richard Salmon
Find out more
What to expect at a singing lesson
---
Singing lessons are tailored to your own personal development goals, so the actual content of the sessions depends on you. Above all, Stefan's studio is a safe, supportive, nonjudgmental space where your vocal journey is the focus. Watch this video to get a general idea of what to expect in a singing lesson with Stefan.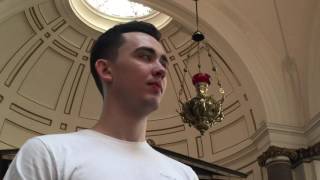 ---
Estill Voice Training and how it can help you
---
Estill Voice Training (EVT) is an evidence-based system for vocal development. It is a life-changing approach that can help you become a stronger and more emotional performer by giving you the tools to improve your craft. Simple everyday sounds are used to identify structures in the larynx and in the vocal tract (throat, mouth and nose). These are then trained in detail to give conscious, predictable and reliable control of your voice. Knowing how to produce exactly the sound you want gives freedom and also helps to ease anxiety around performing. EVT offers practical solutions to many vocal issues, including:
Thyroid Cartilage

overcome breaks in your voice

access your full range
vibrato control
learn to sing really softly
switch between pop or classical more easily

False Vocal Folds

sing and speak without strain
improve your vocal health
cultivate clear tone

True Vocal Folds

dynamic control, are you stuck in one volume?
use clear tone or a breathy sound safely
pitching, secure intonation
breath control, does your breath keep running out?
EVT also looks at performing in three separate areas: craft, artistry and performance. This allows for accurate problem-solving and an efficient process for you to develop to a more confident singer.
---
Cancellation policy
---
Stefan offers refunds for cancelled singing lessons and vocal coaching as follows:
24 hours or more = full refund less £1 or any processing fees​ (whichever is greater)
Less than 24 hours = no refund under any circumstances, including illness
---
Exam preparation
---
Yes! With over 10 years' experience, Stefan has an excellent track record in supporting singers in exams for ABRSM, LCM, Trinity Guildhall and GCSE & A-level recitals.​ Stefan offers tailored vocal and aural training, coaching on performance and interpretation and sight reading. He understands that the key to a good outcome is in the preparation and he is skilled in taking people through the necessary steps to achieve their goals. Here's a testimonial from Geraldine McGreevy:
"Stefan started giving my son, Con, voice lessons at the beginning of his A2 year. Con's performance grade from his year 12 studies was a grade B. His music teacher suggested that this could be improved and so recommended a re-sit. Stefan worked with Con on both his re-sit and his year 13 performance, which resulted in two A* grades. My husband and I noticed a dramatic improvement in Con's technique and the quality of his singing. Stefan gave advice on the choice of song and maintained contact with me throughout. I would not hesitate to recommend Stefan. My son enjoyed working with him and most certainly acknowledges the input that Stefan had to his final grades."
---
---
Singing lessons make a great gift! Whether it's for an experienced singer, a complete beginner or someone in between, a session with Stefan is a fun way to help someone learn more about their voice.